Fast Lane readers know that DOT has been working to address bike and pedestrian safety issues nationwide and help communities create safer, better-connected nonmotorized networks as part of the Department's Safer People, Safer Streets Initiative. Since launching the initiative in 2014, we've met with safety experts, stakeholders, local officials, and the public on a range of targeted strategies to encourage safety for bicyclists and pedestrians on and around our streets. These discussions have resulted in great ideas and suggestions.
Based on these discussions the Federal Highway Administration (FHWA) also thought it would be helpful to clarify the funding, design, and environmental review processes for bike-ped projects in a new report called "Bicycle and Pedestrian Funding, Design, and Environmental Review: Addressing Common Misconceptions."
Here are a few of the report's key points.
The Transportation Alternatives Program (TAP) is not the only federal funding source for pedestrian and bicycle projects.
TAP is popular for bicycle and pedestrian infrastructure but it's not the only source of funds.  Pedestrian and bicycle projects are eligible for FHWA funding through the Congestion Mitigation and Air Quality Improvement (CMAQ) Program, the Surface Transportation Program, the Highway Safety Improvement Program, the National Highway Performance Program, and Federal Lands and Tribal Transportation Programs.  Funding is also available from the Federal Transit Administration (FTA) through Capital Funds and Associated Transit Improvement.  In order to receive funding, a pedestrian and bicycle project must meet a program's requirements. For example, CMAQ funds have to be used for projects that benefit air quality.
AASHTO's Policy on Geometric Design of Highways and Streets (the Green Book) is not the only design standard that can be used on federal aid highway projects.
When a Green Book standard applies but an element of the design is outside the Green Book parameters, a design exception can be considered.  And states can adopt their own standards for non-National Highway System projects.  FHWA's 2013 Memorandum on Bicycle and Pedestrian Design Flexibility supports a flexible approach to the planning and design of pedestrian and bicycle facilities and the use of additional resources such as the National Association of City Transportation Officials'Urban Bikeway Design Guide and the Institute of Transportation Engineers' Designing Urban Walkable Thoroughfares. FHWA also recently published the Separated Bike Lane Planning and Design Guide that includes planning considerations and design options for separated bike lanes.
Bicycle and pedestrian projects do not need to be within the existing Right of Way (ROW) to be eligible for a Categorical Exclusion under the National Environmental Policy Act (NEPA).
As with all roadway projects, FHWA regulations do not require bicycle or pedestrian facilities to be within the existing ROW to be eligible for a Categorical Exclusion under NEPA. The environmental review process for NEPA considers environmental impacts of a proposed project, and doesn't mandate the siting of a project either within or outside of existing rights-of-way.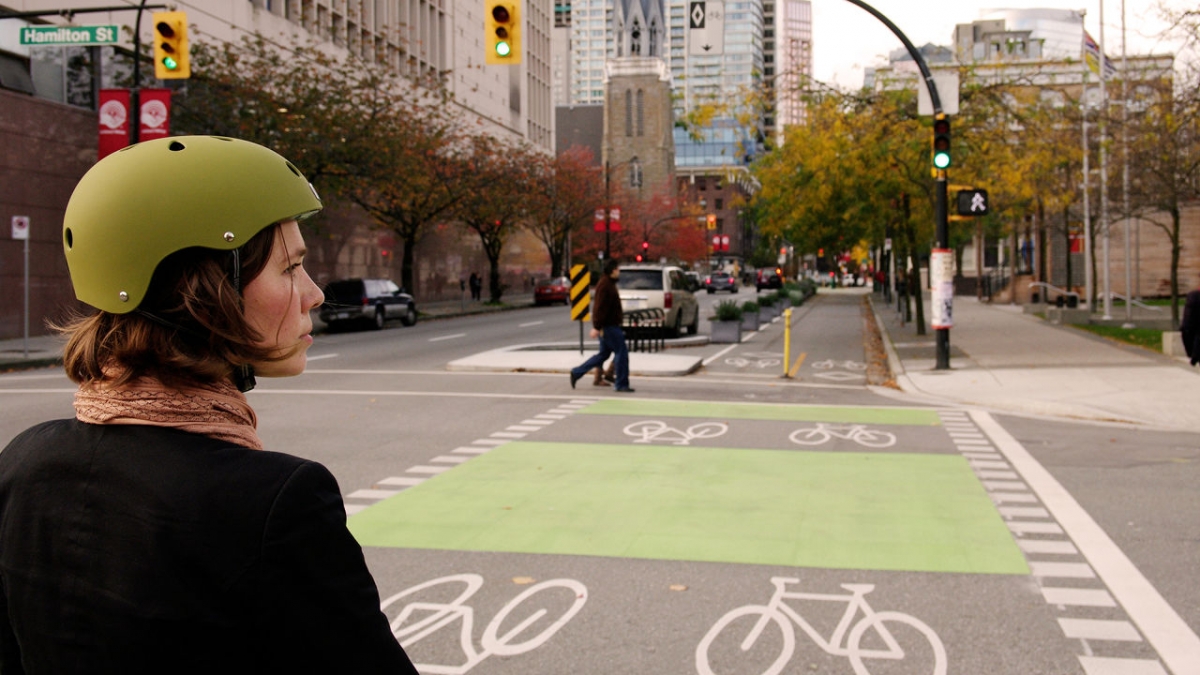 ---
The full report is available here.
Source: U.S. Department of Transportation
August 20, 2015
By Gregory Nadeau
https://www.transportation.gov/fastlane/separating-fact-fiction-bike-ped-project-funding-design-and-environmental-review