The colorful approach is part of a project to enhance safety for both people and cars.
One of the busiest intersections in Austin, Texas, has gotten a makeover. White stripes adorn the barren pavement that once made pedestrians hesitant to cross, poles separate pedestrian space from the roadways, and stop signs now sit at every corner. Then there are all the polka dots, painted in green and baby blue.
They aren't there just for decoration, says Anna Martin, traffic engineer for the Austin Transportation Department. The whimsical polka dots at the corner of East 6th and Waller Streets in East Austin are curb extensions, or "bulb outs," designed to "give space back to the pedestrians." Evenings and on weekends, the area, known for its walkability and bustling night life, is teeming with people.
Yet residents have complained that the intersection there is anything but friendly to pedestrians due to a lack of crosswalks or measures to slow down traffic. This specific intersection has seen dozens of crashes in 2015, according to local news channel KXAN.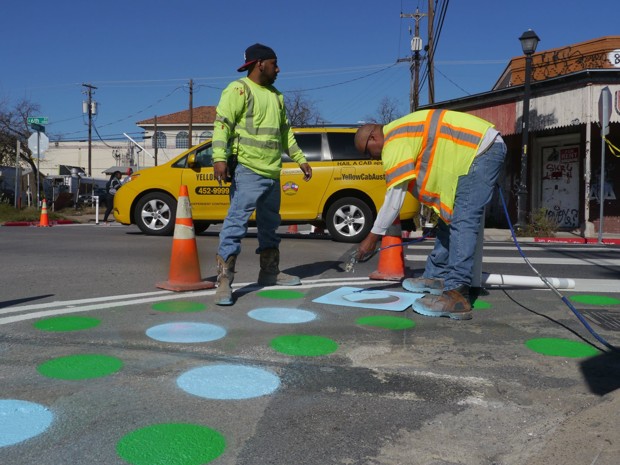 In response, the city council decided to install four-way stop signs and dedicate what Martin calls "wasted no-man's land" to pedestrians. But instead of building out the curb with concrete, Martin says they opted for a low-cost option using what they already had handy. And instead of regular white paint, they took colorful inspiration from various parklet and pedestrian plaza projects in New York City and Los Angeles.
The blue and green dots Austin is using, she adds, clearly define the pedestrian space, and they stand out just enough to make drivers slow down without causing a distraction. The upgrades debuted Wednesday, and so far the feedback has been positive.
"It's a testament to the character and energy of Austin," says Marissa Monroy, public relations specialist for the city of Austin. "People are really excited to see a project that emphasizes safety but, at the same time, really shows that we like to have a little bit of fun."
Source: Citylab
January 29, 2016
By Linda Poon
https://www.citylab.com/design/2016/01/polka-dots-help-pedestrian-reclaim-space-in-austin/433749/