A major overhaul of a huge Houston park reveals disparities in what white, black, and Latino residents want—and need.
Houston is embarking upon a $220 million parks project called Bayou Greenways 2020, a 150-mile network of continuous hiking trails, biking paths, and green space that will run throughout the city. When completed in 2020, it will make good on plans made by the urban planner Arthur Comey in 1912 to connect the city's parks with the many strips of bayous scratching open the Houston landscape. Residents approved by ballot referendum a $166 million bond in 2012 to pay for the Bayou Greenways 2020 project, and for improvements to the near-50,000 acres of park space in the city. The goal is to connect the area's bayous and parks to neighborhoods spanning the region.
While this connectivity is the stated priority for this massive parks overhaul, not everyone in Houston is feeling it. In fact, connectivity seems to matter most only to Houston's whiter and wealthier residents. When the city's parks and recreation department conducted its Master Plan Parks Survey in 2014, the majority of respondents replied that they wanted their neighborhoods and parks linked to biking and walking paths. The problem with that survey is that about two-thirds of the respondents were white with household incomes over $75,000. This is clearly not a good starting point for Houston, one of the most racially diverse, (and heavily segregated) cities in the country.
To correct this misrepresentation, a group of researchers from Rice University, conducted another survey, with the parks and rec department's blessing (and funding!). This one was targeted at African-American and Latino neighborhoods to find out what they wanted from the new park upgrades. Lo and behold, the priorities differed from those of the initial survey. As the researchers write in the report about the surveys, "More Inclusive Parks Planning: Park Quality and Preferences for Park Access and Amenities":
Neighborhood connectivity to parks was not a salient issue among park users in these neighborhoods, although this had been a primary finding from the 2014 Master Plan Survey and a favored option of 31 percent of respondents in our closed-ended question. Instead, they envisioned a diverse set of new or improved amenities—most prominently, restrooms and water fountains, and an array of recreational infrastructure—in better maintained and safer parks.
In fact, connectivity was ranked last among priorities for black and Latino Houstonians. What do they want for their parks? Not only clean, functioning public bathrooms, but also better lighting to make parks safer at night and better playground equipment that's not prone to breaking down.
The Rice researchers see the priority gap between the two surveys as an environmental justice issue that calls for more diverse perspectives when it comes to designing public parks. As they write in the report:
The implications for diverse audiences such as parks department employees, citizen advocates for parks, and academics studying environmental justice issues are connected by the need to be inclusive of voices typically under-represented in planning processes, namely those of racial minorities and low-income populations. In Houston, particular effort must be made to better existing parks infrastructure in these communities.
Antoine Bryant, an urban planner and architect who sits on Houston's City Planning Commission, says he's not surprised by the wide variation of viewpoints between the two surveys. He also says the racial discrepancies probably explain why the Bayou Greenways initiative hasn't exactly been a particularly all-inviting campaign. Since much of the Bayou parks project is privately financed ($90 million in private funds have been raised as of February 2016), Bryant, who is African-American, says many think that it's created for the enjoyment of Houston's elites—the kind who informed the original city survey.
"There's a perception, and not just in Houston, that if you have too many black people or Mexicans in the park, they don't know how to act," says Bryant, "and that's why [the Bayou Greenways project] has never been actively marketed to our communities. Half of the black and Latino people in this city probably don't even know how to get to it, even though it's in close proximity to many of their neighborhoods. That I can tell you unequivocally."
Houston's parks department hasn't been completely tone deaf to its black and Latino residents. Bryant says the department is better at responding to communities of color than most city agencies. In fact, one of Houston's most ambitious, and expensive, park prospects is the 10-acre, $33.6 million Emancipation Park plan for one of the oldest African-American wards in the city. The architect, Philip Freelon, probably best-known currently for his work on the soon-to-open Smithsonian National Museum of African American History and Culture, is also leading Emancipation Park's development.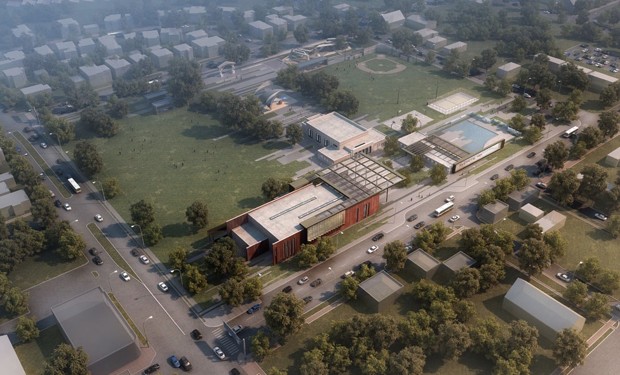 Houston's parks department gathered a tremendous amount of input from black communities for the Emancipation Park effort, says Bryant. Upon completion, which is expected by this year's Juneteenth holiday, the aesthetic renewal of the park will hopefully boost the economic vitality of the surrounding neighborhoods.
"The community has been actively involved on this more so than any park project in the city," says Bryant. "That level of engagement is uncommon around here, but hopefully it will continue as we look at other park improvement plans."
Source: Atlantic Citylab
March 23, 2016
By Brentin Mock, AP Photo/Pat Sullivan
https://www.citylab.com/design/2016/03/why-race-matters-in-planning-public-parks-houston-texas/474966/